Kodiak uses proven wheel designs that are winners in the real world under real race conditions. Only extremely high-grade, aerospace-quality 6061-T6 materials are used in the manufacturing process.



Unlike many manufacturers that use turn-of-the-century casting techniques, Kodiak uses only state-of-the-art forging processes to make its wheel centers. This results in: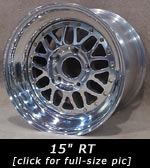 One of the biggest benefits of the forging process (pressurizing metal to increase its density), is that it results in predictable strength properties that have less porosity and fewer inclusions. This means your Kodiak Racing Wheels give you high load capabilities.



Another benefit of forging is the hot working that refines the material's grain pattern and imparts high strength, ductility and resistance properties. This means your Kodiak Racing Wheels are extremely reliable.



One of the biggest benefits of radial forging is that it allows for alignment of the concentration of the material strength in the direction of the load. This means that cuts are made with the grain not across it. And that means your Kodiak Racing Wheels are very rigid and exceptionally strong.



Kodiak uses CNC "spun wheel" technology - the best available today - to make its wheel shells. This highly refined process results in:



This technology allows for the control of cross-sectional thicknesses with extreme accuracy. This means your Kodiak wheels have excellent wheel consistency and perfect wheel balance.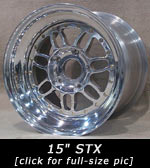 This technology allows Kodiak technicians to flow material from a low stress position on the wheel and relocate it to the high stress load areas. This means your Kodiak Racing Wheels have minimal weight and maximum mechanical strength.



Kodiak uses a 2-stage heat treating process that includes a primary quench, a secondary spin & a final artificial age to T6 hardness. Shells then go through an initial primary polish and machining on vertical CNC milling machines with a final polish or "coloring" stage applied before final assembly.



After all three pieces have completed their respective drilling and finishing stages, they are hand assembled and sealed, and a final quality check is made. The end result is a top quality wheel that is strong, reliable, stable, balanced, consistent and extremely light-weight.



Faster lap times. What it's all about.